Tech and Automotive Leaders Form NAV Alliance - Networking for Autonomous Vehicles
Autonomous driving is creating a need for a new breed of in-vehicle networking solutions that can transmit data between the increasing number of high-resolution sensors, cameras and processing engines at blazing-fast speeds. With this in mind, Aquantia, Bosch, Continental, NVIDIA, and Volkswagen formed the Networking for Autonomous Vehicles (NAV) Alliance, to drive the ecosystem development required for the next generation of Multi-Gig Ethernet networking in vehicles.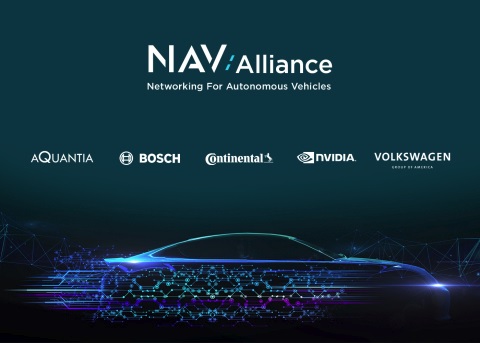 Self-driving cars have become data centers on wheels constantly analyzing vast amounts of data to endeavor to ensure the safest and most secure experience for passengers, pedestrians, and other vehicles.
"Redundant and diverse AI algorithms are the key to level 5 automation. However, the volume of data generated by multiple types of sensors (camera, radar, lidar, ultrasound) can reach 32TB every 8 hours – that level of data transfer calls for a new breed of ultra-high-speed networks, including Multi-gig Ethernet. The NAV alliance will catalyze the development of a reliable next generation of networking platform for self-driving cars," said James Hodgson, Senior Analyst Autonomous Driving, ABI Research.
NAV alliance's members, leading auto manufacturers and technology providers, are joining together in an effort to shape the future of in-vehicle networking technologies as society prepares for the paradigm shift to autonomous driving.
Akin to a very advanced nervous system, this next-generation networking architecture is based on an array of ECUs, CPUs, GPUs, high-definition cameras, sensors, gateways, and storage devices, all connected through a high-speed, Multi-Gigabit/s Ethernet network that works to seamlessly move data throughout the vehicle securely and reliably.
NAV Alliance's Founding Objectives
■ Develop the ecosystem for next generation Multi-Gig Ethernet automotive networking
■ Create specifications for interoperability, security and reliability of the in-vehicle network
■ Promote products and solutions that adhere to the new specifications
■ Establish standards body liaisons
■ Build marketing activities to build awareness and educate the market place and users
Founding members will focus on these core objectives and expand the NAV Alliance membership roster in the coming months to include additional automotive suppliers and manufacturers.