2020 Automotive Technology Predictions
The following are 2020 automotive technology predictions from Qt. These predictions address the advancements of in-vehicle displays, the transition to fully autonomous vehicles, and the effect of ridesharing on automotive user interfaces.
In-car digital displays
In-car digital displays will continue to get larger and more unified, focusing on delivering smartphone-like user experiences.
The evolution of the in-car experience has been dramatic and swift. Traditionally, in-vehicle digital controls were very isolated: the center dashboard would control media and radio functions, a different section controlled the HVAC system, and a standalone set of controls managed the rear-seat infotainment system. Moreover, the analog instrument cluster, which used electric mechanic needles to indicate speed, RPMs, and more, was considered an independent segment of the vehicle control system.
Over the past few years, automotive OEMs have focused on delivering more unified capabilities to drive enhanced user experiences. This trend is guided by the easy-to-use interfaces of today's smartphones, which have biased consumer expectations for every type of device. To support this evolution, automakers have started to deploy high-performance digital interfaces in their vehicle line-ups, including digital instrument clusters, in-vehicle infotainment systems, and head-up displays, to help consumers fully utilize the connected car capabilities. For example, Tesla's Model S vehicle has a 17-inch touchscreen that manages not only typical navigation and media functions — but also every other control in the car from one single screen.
In 2020 and beyond, the customer need for usability, reliability, and performance will continue to drive bigger and more inclusive in-car screens. At some point, these digital cockpits might even span the whole front of the car (see Byton's M-Byte SUV, which has a screen that measures 48-inches across). Beyond ease-of-use, the bigger and advanced digital screens will enhance driver and passenger safety by providing more mission-critical information — such as lights that are turning red, or alerts on accidents or unsafe road conditions ahead — and these screens will also reduce driver distractions, so drivers would no longer need to struggle through a myriad of options cluttered on a small screen.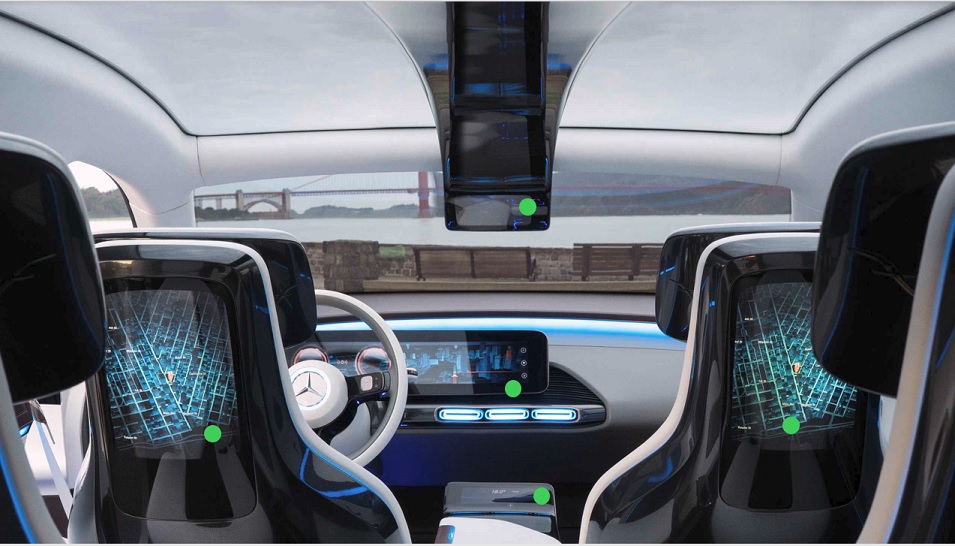 Advanced digital screens
By providing enhanced operational visibility, advanced digital screens will play a critical role in the safe transition to fully-autonomous deployments.
There is a wide variety of challenges that are curbing the widespread adoption of autonomous vehicles, and one of the most significant issues is safety.
User safety is one of the most critical aspects of the modern driving experience, and over the past few years, the industry has seen an increasing demand for automated, safe-driving offerings and capabilities. Although most drivers (and vehicles) are not yet ready to hand over full control to an autonomous machine, many cars on the road today provide tools to assist drivers and increase overall road safety, including adaptive cruise control, automatic emergency braking, and blind-spot detection.
As automated driving functionalities continue to evolve from basic safe-driving assistance to fully-autonomous deployments, drivers are expected to pay less attention to vehicle operations and grow more unaware of their surroundings. During this transitional phase, there will be moments where drivers must occasionally jump in and take over basic operations from the self-driving system, in case of, complex, heavy-traffic situations, etc. If the driver can't take back control of the machine quickly and efficiently, it will result in life-threatening issues.
In these types of emergency situations, it will be vital for the driver to know what is going on inside and outside the vehicle very quickly. Most importantly, drivers must know what's driving the machine's behavior, and these insights must be presented instantly, clearly, and accurately so drivers can act accordingly before serious errors occur.
To help address this issue, in 2020 and beyond, automotive OEMs will look to advanced digital screens to help translate autonomous decision-making and increase operational visibility, which will help address the significant industry safety concerns and build consumer trust.
Automotive user interfaces
As a result of the increasing popularity of ride-sharing, automotive user interfaces will become more user-centric to support mission-critical operations.
Although ridesharing is not a new phenomenon, the growing popularity of smartphones and the ever-growing usability expectations from newer generations has resulted in a dramatic rise in the quality and quantity of ridesharing use cases. Moreover, compared to the previous generation, millennials are less inclined to purchase cars as status symbols and instead focus on cost-efficiency, productivity, and environmental awareness. Indeed, according to Lyft's 2019 Economic Impact Report, Lyft passengers across the globe retained approximately $6 billion in combined time savings and travel costs this year alone.
Ridesharers use off-the-lot, standard vehicles for daily operators, and we expect this trend to hold as the industry continues to grow over the next few years. However, in 2020 and beyond, software and digital experiences — for both in-vehicle systems and mobile phones — will continue to innovate to deliver enhanced driver and passenger experiences. Rather than showcasing details about the ride to the driver and passenger via their personal devices, vehicles can implement more advanced user interfaces to improve the overall customer experience. For example, in-vehicle screens can update passengers and drivers simultaneously on real-time traffic updates via the center console and rear-seat infotainment systems.
Moreover, the industry will experience an increase in downloadable applications for cars so that drivers can customize vehicle usability similar to the smartphone experience. Rather than installing applications on personal, handheld devices, drivers can install apps directly onto the vehicle control system. Beyond ridesharing, this will also benefit sectors such as online food delivery, as these applications can be easily customized for a variety of use cases. Considering restaurant delivery has grown 20% in the last five years, and online food delivery sales are estimated to expand to 40% of total restaurant sales by 2023, this is a big opportunity for automotive OEMs to enable more user-centric digital experiences.