Driver Monitoring Systems Expected to Gain Mainstream Popularity
Automotive safety technology has evolved from an application for car exteriors to one for car interiors, while sensing technology is moving towards a future where it integrates driver status monitoring with external environmental readings, according to TrendForce's 10 Tech Industry Trends for 2021.
Similarly, automotive AI integration is evolving past its existing entertainment and user assistance functions, into an indispensable enabler of automotive safety.
In light of the string of traffic accidents in which the drivers ignored road conditions due to their over-reliance on ADAS (advanced driver assistance systems), which have recently skyrocketed in adoption rate, the market is once again paying close attention to driver monitoring functions.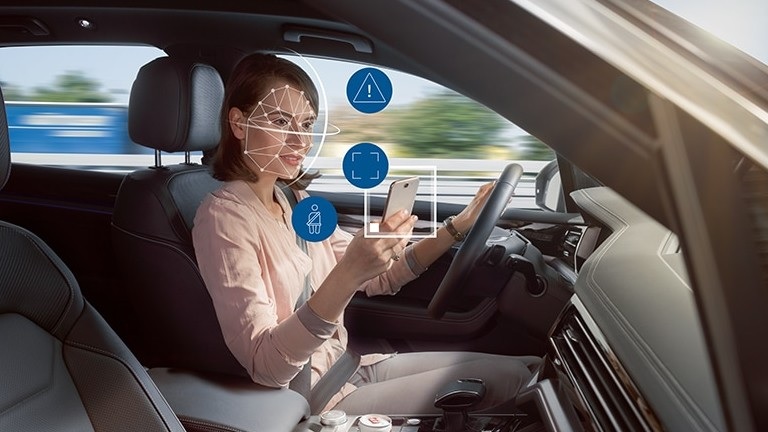 Bosch driver monitoring system

TrendForce says that in the future, the main thrust of driver monitoring functions will be focused on the development of more active, reliable, and accurate camera systems. By detecting the driver's drowsiness and attention through iris tracking and behavioral monitoring, these systems are able to identify in real time whether the driver is tired, distracted, or driving improperly. As such, DMS (driver monitoring systems) have become an absolute necessity in the development of autonomous driving systems, since DMS must serve multiple functions simultaneously, including real-time detection/notification, driver capability assessment, and takeover of driving controls whenever necessary.
According to Analysis of Driver Monitoring Systems, 2020 Edition from ResearchAndMarkets, "A driving monitoring system (DMS) uses a camera to monitor driver alertness that not only recognizes the driver, but also checks his or her level of vigilance. Its purpose is to alert the driver when signs of drowsiness or distraction are detected. A DMS can trigger alerts to the driver and initiate an intervention to manage the control of the vehicle. In semi-autonomous vehicles, such as Society of Automotive Engineers (SAE) level 3 (conditional automation), the driver must be ready to take back control of the vehicle. A DMS, therefore, ensures that the driver is ready to take control of the vehicle when the situation dictates. When highly automated vehicles become available (level 5), driver monitoring will become even more significant. Hence the current focus of development is on camera-based facial recognition technology."
TrendForce expects vehicles with DMS integration to enter mass production in the near future.