Intelligent Mobility: Impact of Digital Transformation on the Transportation Industry
Benny Daniel and Venkata Balakrishnan
Frost & Sullivan
The automotive industry is undergoing a digital transformation as highly advanced connected hardware and software components are bringing new technology into vehicles. This semiconductor-based revolution started with smartphone integration and has advanced into human-machine interface technologies. However, this digital advancement is not just limited to the connected features inside the vehicle but also expands to intelligent mobility services such as last mile connectivity and fully autonomous future transportation.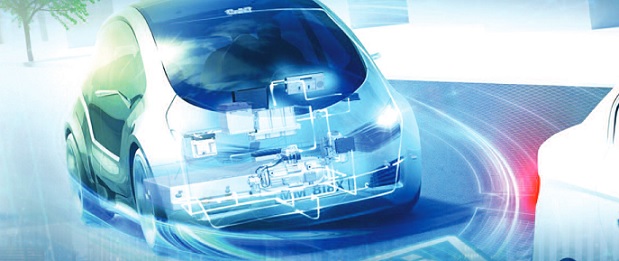 Mobility Services Gaining Momentum
Automakers are focusing on providing the driver and passenger with a complete connected experience. OEMs have also tied up with businesses to make payment transactions through applications in the infotainment units for services such as parking, fueling and OEM concierge services. For instance, Jaguar Land Rover worked with Shell Corporation to launch the first in-car payment system with which owners can pay for fuel using the in-car touchscreen. This digital interaction is expected to expand into other cashless services like parking and drive-through restaurants. While improving the experience inside the vehicle, automakers are also maximizing the potential of digitalization in the mobility service space.
Owing to the growing carsharing member base which reached over 9.2 million in 2016, seven automakers have created sub-brands dedicated to mobility and cars-as-a-service program such as General Motors' Maven and Volkswagens' Moia. Through these brands, automakers intend to invest in self-driving models, autonomous car technology and smart parking services.
Geely and Volvo have worked together in creating Lync & Co, creating one of the most connected vehicles ever built, allowing car owners to generate income while their vehicles are not being used. The revenue is generated by owners making use of an app to offer the use of their car to other drivers, when the vehicle is left at a parking spot.
OEMs are also investing heavily in ride hailing firms such as GM in Lyft and Toyota in Uber, providing support by offering their cars for the service. The decision for automakers are in line with the trend of customers' will to using ride and car sharing services rather than invest in purchasing an entire car. This becomes evident through the growing mobility services market, with e-hailing alone growing 62.6 percent in 2016.
In future, carsharing combined with connected vehicles would make transportation cost effective, by eliminating the need for outright purchase of the car and all costs associated with it and time effective by eliminating the need to wait for services or parking spots.
Smart Cities and V2V Communication
With connected and autonomous technology, vehicles are expected to interact with smart cities, making transportation secure and safe. Autonomous vehicles are expected to play a major part in urban transportation. Automakers are entering partnerships with technology service providers with experience in the field to speed up the introduction of these advanced vehicles on the roads. Over 13 OEMs have invested over $7 billion for the development of self-learning technology for their vehicles. Nvidia has tied up with OEMs such as Audi and Mercedes-Benz developing autonomous vehicle technology making use of their Drive-PX2 platform. Intel recently purchased Mobileye who has partnered with BMW and VW for their autonomous technology.
Artificial intelligence is also going to be used to improve the travel experience by remembering destination choices such as restaurants and coffee shops, and paying attention to passenger behavior and making suggestion based on this data. The Toyota Concept-I and Honda NeuV displayed AI platforms capable of improving driver-machine relationship, by interacting with drivers seamlessly, supporting driver decision.
Ride-sharing companies such as Uber and Didi are also joining the bandwagon, by partnering with technology companies for autonomous vehicle development, as they possess vehicle fleets that can be used to collect data to improve autonomous algorithms.
Furthermore, cars make use of Dedicated Short Range Communication (DSRC) to interact with infrastructure, such as traffic signals (V2I) and other vehicles (V2V) improving traffic safety. Smart cities together with connected cars can actively reduce time passengers spend in the vehicle by altering traffic timing to reduce congestion and by identifying empty parking spots. They can also communicate between themselves to prevent crashes, providing blind spot warnings and hazard detection. Automakers and suppliers have introduced new products that make use of the V2X technology, such as ZF and its X2Safe algorithm, which makes use of GPS data and sensors to calculate road collisions warning both users to avoid collisions.
Conclusion
Connected vehicles driven autonomously powered by electric technology are expected to be the future of personal transportation. Automakers are expected to increase their funding and time spend on developing dedicated mobility brands, which include various mobility services such as car and ride-sharing, smart parking and last mile connectivity. This is expected to help future vehicle owners and passengers to undergo a wholesome automotive experience at the touch of a button.
Benny Daniel is VP Consulting Mobility at Frost & Sullivan.
Venkata Balakrishnan is Automotive Research Analyst at Frost & Sullivan.