ITS America: 5G Connectivity Will Be Transformational
Fifth-generation wireless technologies (5G) have the potential to deliver a transportation system that is safer, offers more choices, and is more inclusive, according to ITS America President & CEO Shailen Bhatt's testimony before Congress on February 6.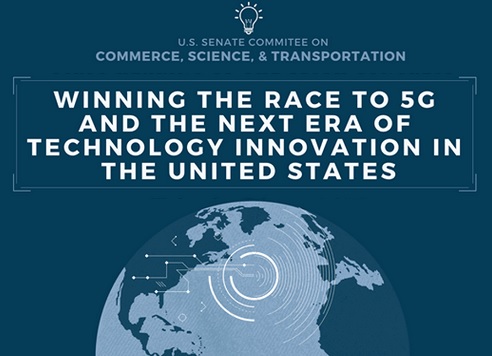 At the Senate Commerce, Science and Transportation Committee's first hearing of the 116th Congress, Winning the Race to 5G and the Next Era of Technology Innovation in the United States, Bhatt made the case that 5G has the capability of revolutionizing the way people, goods, services, and information move in the 21st century.
He noted that while the world is awash in a sea of big data, 5G has the speed and bandwidth to convert that data into actionable information that will in turn help reduce crashes and operate transportation systems more effectively
"While vehicles can communicate with each other and all system users today (V2X communications), it will only get easier with 5G and other next generation wireless technologies," Bhatt testified. "With high-speed communications among devices, vehicles, and infrastructure as well as pedestrians, we can create a much safer environment in metro and rural areas in which everyone can see all users – even if they happen to be around a corner."
Bhatt told the Committee it is imperative to preserve the spectrum dedicated for safety critical communications in the 5.9 GHz band for V2X.
In addition to improving safety, high-speed connectivity will boost Mobility on Demand (MOD) by giving people real-time information that will allow them to make better transportation choices. He added: "In addition, MOD promotes societal benefits such as a less congested, less costly, and more sustainable transportation system. Leveraging the insights gained from MOD data, new business models can be developed to enhance mobility and address unmet transportation needs. The rapid development of 5G connectivity can offer new opportunities for MOD. Increased data throughput will bring many new possibilities for MOD, including better coverage, availability, and reliability. This will allow MOD to better reach underserved areas such as first mile/last mile and transit deserts."
Bhatt also noted: "These technologies can also enhance automated driving systems, which hold the promise to provide numerous economic, environmental, and societal benefits, such as decreased congestion and fuel consumption, and increased access for older adults and people with disabilities ... 5G and other next generation technologies will help unlock the full potential of self-driving technology by serving as an additional source of data about infrastructure, traffic, construction, and emergency vehicles that will solve for some of the more challenging road interactions."
In addition, Bhatt touched on international implications: "Other countries have been very clear about their intent to make forays into the automotive and information technology sectors. It is imperative for the United States to maintain its leadership role and provide safer and more inclusive communities."
"5G connectivity will be critical as we move from the 20th century model of moving cars to the 21st century model of moving people, data and freight. The same data that helps us operate the system in a safer manner also helps us operate it more effectively," Bhatt stated.