ITS Observatory - Your One-Stop Information Portal for ITS Deployment in Europe
Paul Kompfner and Maria De Rycke
ERTICO
Smart transport systems and services are transforming the mobility of people and goods across Europe and beyond. But state-of-the-art ITS deployment is far from complete and the smarter mobility market is still developing. More and more, cities need new and innovative solutions to help them meet air quality and emission targets, not to mention for reducing congestion, improving people's mobility and transport safety and efficiency. In fact, new tools are needed, to bring people together and share information about deployments, outcomes, impacts and benefits.

Owner, Supplier or Expert? The ITS Observatory Can Light Up Your ITS
The ITS Observatory is not just Europe's first online catalogue of ITS deployment and "who's who" directory of the ITS community, it's a bright new channel for you to broadcast news of the smart transport and mobility systems you own and operate, or that you supply.
Share Your ITS Deployment
Tell the world about your ITS systems and smart mobility services , and how they help you achieve your business or policy objectives. Describe your success stories, but also the lessons you've learned. Share your contact details and discuss your assessment of impacts, benefits and costs with people you trust.
Present Your ITS Products and Services
Use the "who's who" business channel to present your products, solutions and expertise to potential customers: if your systems or services are listed in the online catalogue, they'll find them easily and be impressed by your successful implementations and clients' recommendations.
Highlight Your ITS Expertise
If you're an ITS expert, consultant or researcher, listing in "who's who" will highlight your expertise, experience and references. You can see and respond to questions posted in the Knowledge Marketplace, or set up a private conversation with a new client. If you're a research project manager, thought leader or innovator, submit a news item or send an article to ITS Insight department.
A Social Tool for and by the ITS Community
The social element of the ITS Observatory will enable users to contact each other directly, to share information, build partnerships and create new initiatives. The ITS Observatory can be a "virtual ITS cafe" and meeting place. What's on the menu? Answer: your ITS!
Key Features of The ITS Observatory
ITS Inventory
An inventory of existing and planned ITS deployments. Find where any type of ITS is implemented and how to learn more about it – and whom to ask for their experience of real- life operations.
Who's Who
A comprehensive directory of ITS organizations and people. Promote yourself and your business, contact peers, customers and suppliers.
Impacts & Benefits
ITS evaluation results presented in an accessible and easy to understand way. Tell us what your solutions can achieve, or find suitable solutions for your mobility challenges.
What's New
The latest developments in ITS deployment plans, products and studies. Preview and promote your ITS event, share your important news.
ITS Policy & Legislation
Stay up to date on ITS policy and legislation, including the EU ITS Action Plan & Directive, and national, regional and local ITS strategies.
ITS Marketplace
Meet potential customers, search for products and solutions. Post a specific ITS question, get answers from the community or start a private dialogue.
Insight
Read articles from leading ITS experts to help you understand the latest in ITS technologies and market trends, or get an insider's view on hot topics in ITS.
Standards
Get an overview and latest news of ITS standards and standardization which could influence your ITS projects and solutions.
Success Stories
Here you can read experts' account of successful ITS implementation, or contribute your own experiences.
ITS Observatory Online Platform Will Be Launched to the Public Mid-April 2017
Make sure you are among the first to be invited to add your ITS data to the platform!
The ITS Observatory will be a dynamic marketplace and real-time database for ITS knowledge. It's the single vantage point for observing the whole landscape of ITS in Europe – so have a look!
Click here to preview the ITS Observatory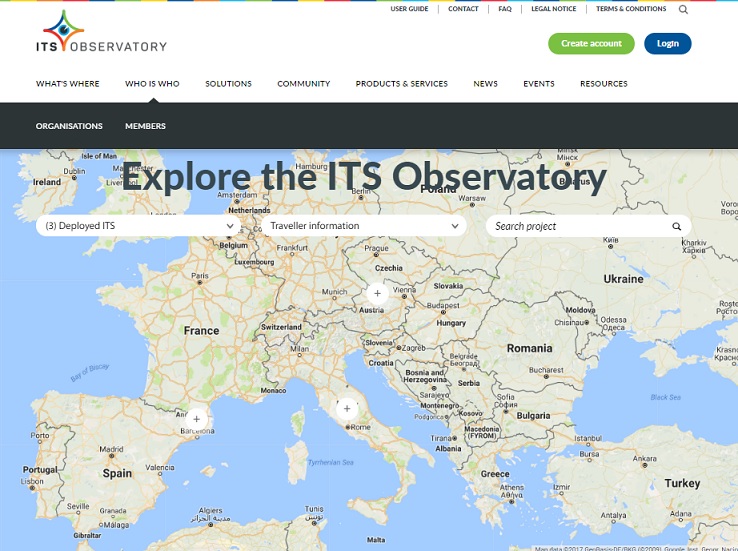 The ITS Observatory project is a support action co-funded by the European Commission H2020 programme.
Paul Kompfner is Project Coordinator ITS Observatory, ERTICO – ITS Europe.
Maria De Rycke is Dissemination Manager ITS Observatory, ERTICO – ITS Europe.