Transit's E-commerce Revolution Can Advance Mobility for All Riders - Part 1
Electronic fare systems and micromobility have the potential to put transit within reach of every population segment
The rise of autonomous vehicles has seized the media spotlight and for good reason: this technology will radically transform mobility in the coming decades. Yet another, quieter revolution also is underway in the transportation space as innovative transit agencies embrace advanced technology tools for delivering safe, cost-effective services to their communities.
For many agencies, even those in mid-sized cities, electronic fare collection has been a major focus for investment. Not only do these tailored e-commerce technologies increase the efficiency and security of fare collection, but they also facilitate the movement of passengers on and off vehicles. These passengers enjoy the fluidity of their experience — wave a card or smartphone and keep moving — especially when the fare system works across multiple modes. But implementation of these systems comes with a renewed responsibility to ensure this upgraded passenger experience doesn't inadvertently alienate or exclude some segments of the community.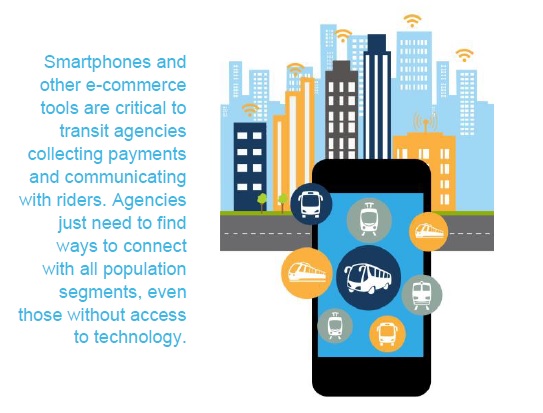 No doubt, transit agencies are extremely conscientious about meeting the Federal Transit Administration's Title VI requirements related to how service and fare changes impact minority and low-income populations. On the surface, these populations appear to possess the personal technology necessary for electronic fare systems. In 2018, 67 percent of those earning under $30,000 annually — and even higher percentages among minority populations — owned a smartphone, according to the Pew Research Center.
Unfortunately, those smartphones aren't always connected to digital sources of money. Millions of Americans have no bank account. And even if people have both a smartphone and bank account there is a significant learning curve — involving apps, bank verification processes and other steps — that can discourage people of all ages and backgrounds.
These realities reinforce how critical it is that transit agencies understand — deeply, intimately — who lives in their service areas and what their mobility needs are. Part of this involves gaining on-the-ground insights, learning about the destinations that matter most to people, whether that's a major entertainment or commercial center, or a discount store or hair salon. Such fact-finding can contribute greatly to an overall strategy for building a significant storehouse of data with which to derive insights and make decisions.
Collaborating for Data — and Much More
Few transit agencies have the funding to unilaterally amass this data through traditional means such as surveys and interviews. This is where creativity and partnerships come into play. For example, cities can work closely with school districts to understand more about the households in a metropolitan service area. Student records represent a gold mine of information about a child's household size, ethnicity or language, income level (from program eligibility factors) and other insights vital to understanding their mobility needs. Transit officials can get this information through an open records request, with no risk to student privacy since no names are linked to the data.
Social services agencies — health clinics, counseling services, food pantries and others — also collect a large body of data that can inform transit agencies' efforts to move their e-commerce strategies forward in the most inclusive ways. But an equally compelling reason to collaborate with these agencies is because there can be interesting synergies between their missions and those of transit agencies, particularly relating to paratransit.
For example, social services organizations often provide transportation services to people of limited means and with special needs that can hinder their use of traditional buses or trains.
It's not uncommon for these organizations to spend $100 per passenger trip using their own or contracted vans. (All costs in this example are estimates based on operational experience.) By contrast, on-demand paratransit services offered by transit agencies can provide trips for roughly $25. Even if a collaboration were to result in $50-per-trip costs, it still theoretically would save the social services organization 50 percent, a major benefit for a cash-strapped nonprofit. This is why a partnership between transit agencies and social service organizations could be mutually beneficial.
Read Transit's E-commerce Revolution Can Advance Mobility for All Riders - Part 2