US and Canada Announce Binational EV Corridor
The US and Canada announced the first Binational Electric Vehicle (EV) Corridor, which will stretch from Kalamazoo, Michigan, to Quebec City, Quebec, tapping into the 75,000+ miles of Alternative Fuel Corridors in the United States.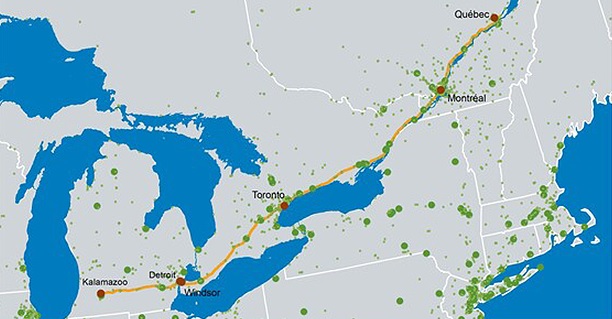 The Corridor will feature DC fast chargers approximately every 50 miles, or 80 kilometers.
"Canada and the United States have built the world's largest market-based energy trading relationship, which provides a firm foundation as we strive to reach net-zero greenhouse gas emissions," said Canadian Minister of Transport Omar Alghabra. "This first cross-border alternative fuel corridor will help drivers to travel across the border and charge or refuel worry-free. It contributes to bringing us another step closer to making our air cleaner while helping people save money on traditional fuels."
"Today's announcement of the first US Binational EV Corridor is a huge step into the future of zero-emissions transportation and commerce," said Detroit Mayor Duggan. "This corridor will carry the flow of EV traffic, trade, and manufacturing between the United States and Canada, through the Detroit's international crossing with Windsor."
The Biden's Administration has set a goal of having 50% of all new vehicle sales in the US be electric by 2030. This goal is supported by the Bipartisan Infrastructure Law, the CHIPS Act, and the Inflation Reduction Act, which have already spurred hundreds of billions of dollars in private sector investment in EV car and battery manufacturing.
The Bipartisan Infrastructure Law includes $7.5 billion in federal funding to help build a national network of 500,000 public EV chargers.
In Canada, one in ten new vehicles purchased is already a zero-emission vehicle.